Bob Rohrman Hyundai

2021 Hyundai Veloster
Find the Sporty Car You Want in the 2021 Hyundai Veloster
Learn More About the New Hyundai Veloster at Bob Rohrman Hyundai
You're looking for a new car with a sporty attitude and an interesting sense of style. That one sentence is the perfect summary for the 2021 Hyundai Veloster.
Dynamic under the hood and equipped with a unique three-door design, the 2021 Veloster is the perfect roadster to satisfy your West Lafayette driving needs.
Serving drivers in the Battle Ground, IN area and more, Bob Rohrman Hyundai can tell you more about this attractive new car.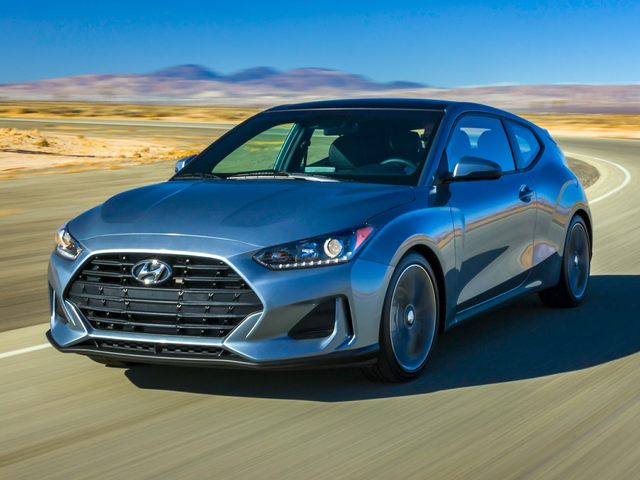 A Unique Design Engineered for Convenience
The Hyundai Veloster, like many small coupes and roadsters, offers seating for up to four. Unlike other cars of this type, the Hyundai Veloster doesn't try to cram those seats into the confines of a two-door design.
Instead, the Veloster offers a unique three-door design. This helps it maintain the benefits of a smaller-sized coupe while also offer easier access to the car's rear-row seating.
Engine Options Aimed at High Performance
The 2021 Hyundai Veloster offers three unique engine options. These include:
2.0-liter inline-4: 147 horsepower, 132 pounds-feet of torque, 27/34 miles per gallon
1.6-liter turbocharged inline-4: 201 horsepower, 195 pounds-feet of torque, 28/34 miles per gallon
2.0-liter turbocharged inline-4: 250 horsepower, 260 pounds-feet of torque, 22/29 miles per gallon
Danville, IN drivers who go home with the base inline-4 will enjoy a level of performance perfect for everyday driving. The Veloster's turbocharged engines, meanwhile, provide the horsepower and torque you need to really cut loose.
Are you the sort of driver who yearns for long stretches of open highway? A 2021 Hyundai Veloster with a 2.0-liter turbocharged inline-4 offers more than enough high performance to fully enjoy the road. Its 250 horsepower and 260 pounds-feet of torque will get you from zero to 60 in less than six seconds.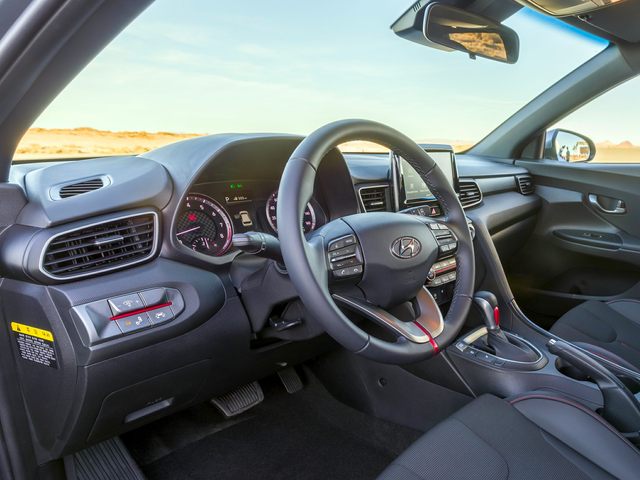 Find the New Hyundai Veloster Model That's Right for You
The 2021 Hyundai Veloster comes available in six diverse trims:
Veloster 2.0
Veloster 2.0 Premium
Veloster Turbo R-Spec
Veloster Turbo
Veloster Turbo Ultimate
Veloster N
The Hyundai Veloster lineup offers a rich selection of features, and they start at the ground floor. Even going home in the Veloster 2.0 will net you a rich collection of features. These include options like a 7-inch infotainment touchscreen, Apple CarPlay, and Android Auto. 2.0 trim also comes with standard active assistance technology, including coveted options like automatic emergency braking.
Upper-level trims, meanwhile, offer extra equipment like keyless entry, wireless device charging, heated seating, push-button start, and more.
This "more" includes a wealth of active assistance features designed to protect you on the road. Blind-spot monitoring, adaptive cruise control, forward collision warnings, lane-keeping assistance; all of these and more. From comfort and convenience to safety and more, the Hyundai Veloster offers options to satisfy all sorts of different drivers.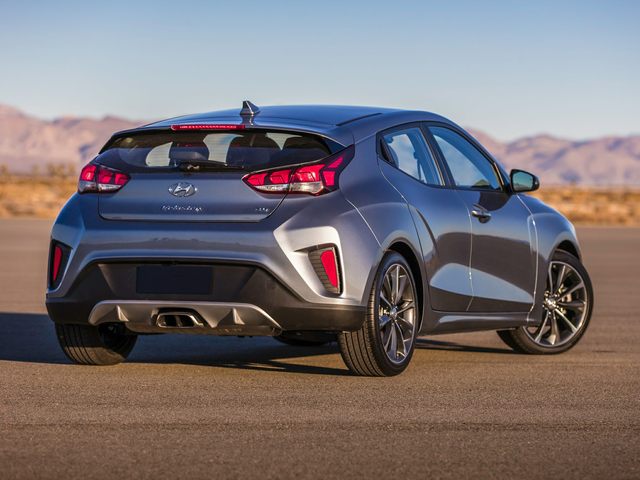 Contact Bob Rohrman Hyundai Today and Schedule Your Test Drive
Does a new Hyundai Veloster sound like the exciting new car you want? Reach out to the sales team at Bob Rohrman Hyundai today with your questions.
You'll be met by a team of friendly Hyundai experts who can provide the answers you're looking for. We'll provide a full rundown of everything the new model brings to the table and help you determine if it's the right new car for you. That includes setting you up with a new Veloster test drive, should you want one.
If you're interested in a new Hyundai Veloster, don't wait. Give us a call at Bob Rohrman Hyundai today and learn more about everything it has to offer.